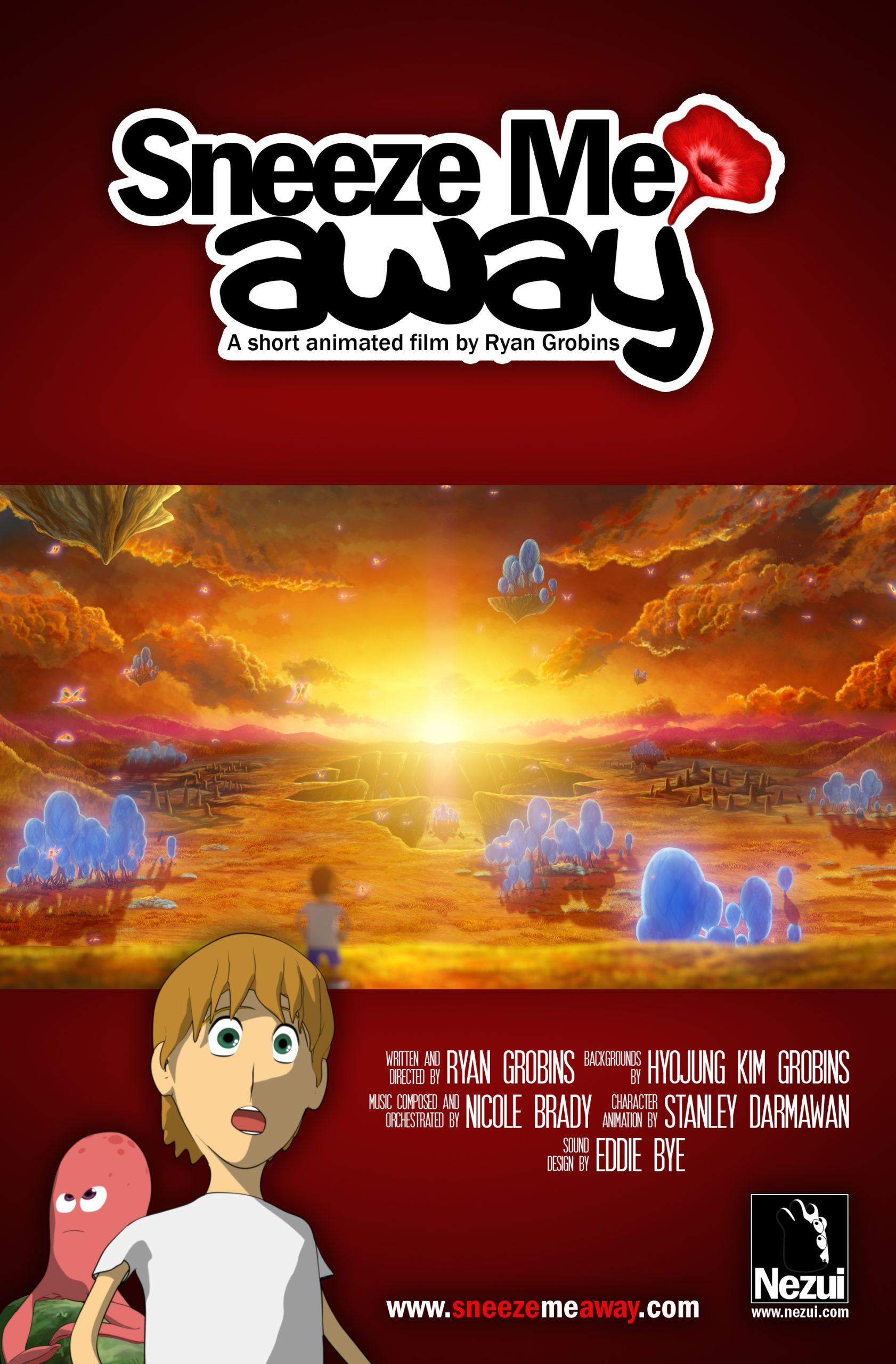 Title:
Format:
Status:
Website:
Achievements:
Sneeze Me Away
Animated Short Film
Completed – March, 2010
www.sneezemeaway.com
30 Festival selections, 9 awards
Over the course of nearly two years, my wife and I worked together to make a wonderful and exciting short animated film full of adventure and heart. At thirteen and a half minutes long, this film offers an entertaining story with colourful characters, a moving story, beautiful environments and enthralling music. It was shown in 30 festivals around the world and picked up a few awards along the way.
Watch it on the Sneeze Me Away website
Watch it via Vimeo
Buy the fantastic "Art of Sneeze Me Away" book
Ryan Grobins – Writer/Director/Producer/Editor/Animator/Modeller/Rigging/FX Artist/Shot Finaler
Hyojung Kim Grobins – Background Painter
Stanley Darmawan – Animator
Rudy Sumarso – Additional Background Painter
Onesuk Yang – Additional Background Painter

Ky Grobins – Thomas
Ryan Grobins – Zumik
Victoria Adams – Emily
Eddie Bye – Mancor
Hyojung Kim Grobins – Tanook

Eddie Bye – Sound Designer
Shane Rogers – Additional Sound Production

Martin Penicka – Cellist
Nicole Brady – Pianist
Laura Bishop – Bulgarian Vocalist
The Orchestra of Vienna
Moravian Philharmonic
Nicki Morris
Lucy Cooper
Peter Moxom
Joe Millward
Kim Minsoo
Cha Jooyoung
Kim Jihyun
Lee Goeun
Dominic Glynn
Zoe Glynn
Bing Lu
Sawako Komlusan
Kim Jongchun
Choi Yoonja
Dianne Grobins
Guntis Grobins
Tyson Grobins
Keegan Grobins
Cub Grobins